Durham-Ellis Pecan offers 23 different SKUs for a number of grocery stores/supermarkets/distributors throughout Texas as well as many other states. Ellis Pecan Co. was purchased by Durham Pecan Co. in 1998 and handles all grocery/cello production and distribution in Comanche, Texas-76442. The Ellis company was started in Ft. Worth, Texas in 1935. Many of the original Ellis customers still remain loyal today.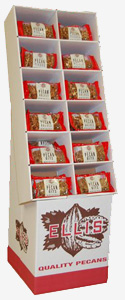 Note: our cello packaging is color coordinated. red for Pecans, green for Walnuts, blue for Almonds, and yellow for Peanuts. We are proud to say that continually the majority of our Pecans are Texas grown. Our quality products all carry a 13 month expiration date which is rare in this industry. Most companies have a longer expiration date. Cello items are produced and shipped year-round. Additionally to assure great pricing, all items are priced year-round with three seasonal promotions: SPRING, SUMMER, and HOLIDAY. Our shelled pecans are Kosher certified and all of the Ellis grocery packaging carries the Texas Department Of Agriculture's "GO TEXAN" logo.
Our grocery/cello products division also packages and delivers Private Label products. Additionally, we recently have started our own on-site canning operations. Where retail coverages are needed, we have 8 different reputable brokers representing our companies/products so we can monitor and cover our large distribution areas.
For current pricing, please contact 800-732-2629. We will be glad to discuss any questions or concerns you might have.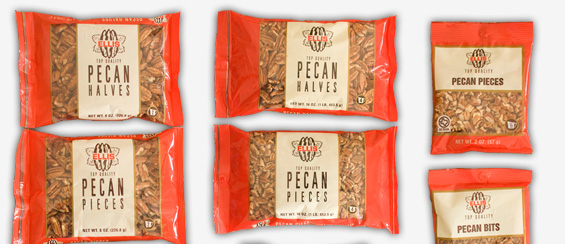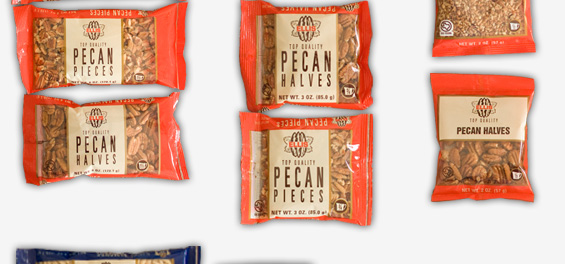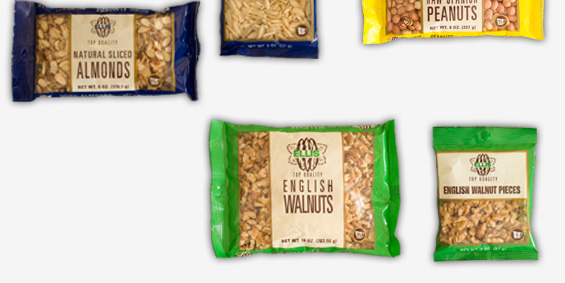 | | | | | | |
| --- | --- | --- | --- | --- | --- |
| UPC | PACK | SIZE | ITEM | WT. | CUBE |
| 0-73042-30000-1 | 12 | 2 oz | Ellis Pecan Bits | 1.5 | 0.1511 |
| 0-73042-20000-4 | 12 | 2 oz | Ellis Pecan Pieces | 1.5 | 0.1511 |
| 0-73042-10000-7 | 12 | 2 oz | Ellis Pecan Halves | 1.5 | 0.1511 |
| 0-73042-12000-5 | 12 | 2 oz | English Walnut Pieces | 1.5 | 0.1511 |
| 0-73042-53000-2 | 12 | 2 oz | Ellis Natural Sliced Almonds | 1.5 | 0.1511 |
| 0-73042-33000-8 | 12 | 2 oz | Ellis Blanched Slivered Almonds | 1.5 | 0.1511 |
| 0-73042-10001-4 | 12 | 3 oz | Ellis Pecan Halves | 2.25 | 0.1511 |
| 0-73042-20001-1 | 12 | 3 oz | Ellis Pecan Pieces | 2.25 | 0.1511 |
| 0-73042-00002-4 | 12 | 6 oz | Ellis Pecan Bits | 4.5 | 0.2337 |
| 0-73042-10002-1 | 12 | 6 oz | Ellis Pecan Halves | 4.5 | 0.2337 |
| 0-73042-20002-8 | 12 | 6 oz | Ellis Pecan Pieces | 4.5 | 0.2337 |
| 0-73042-10003-8 | 12 | 8 oz | Ellis Pecan Halves | 6 | 0.3775 |
| 0-73042-20003-5 | 12 | 8 oz | Ellis Pecan Pieces | 6 | 0.3775 |
| 0-73042-10004-5 | 12 | 10 oz | Ellis Pecan Halves | 7.5 | 0.3775 |
| 0-73042-20004-2 | 12 | 10 oz | Ellis Pecan Pieces | 7.5 | 0.3775 |
| 0-73042-10005-2 | 12 | 16 oz | Ellis Pecan Halves | 12 | 0.5182 |
| 0-73042-20005-9 | 12 | 16 oz | Ellis Pecan Pieces | 12 | 0.5182 |
| 0-73042-13001-1 | 12 | 6 oz | Ellis Natural Whole Almonds | 4.5 | 0.2337 |
| 0-73042-33001-5 | 12 | 6 oz | Ellis Blanched Slivered Almonds | 4.5 | 0.2337 |
| 0-73042-53001-9 | 12 | 6 oz | Ellis Natural Sliced Almonds | 4.5 | 0.2337 |
| 0-73042-12001-2 | 12 | 10 oz | Ellis English Walnut Pieces | 7.5 | 0.3775 |
| 0-73042-11003-7 | 12 | 8 oz | Ellis Spanish Raw Peanuts | 6 | 0.2337 |
| 0-73042-11002-0 | 12 | 16 oz | Ellis Spanish Raw Peanuts | 12 | 0.3775 |